---
THE

MOONMAN CHRONICLES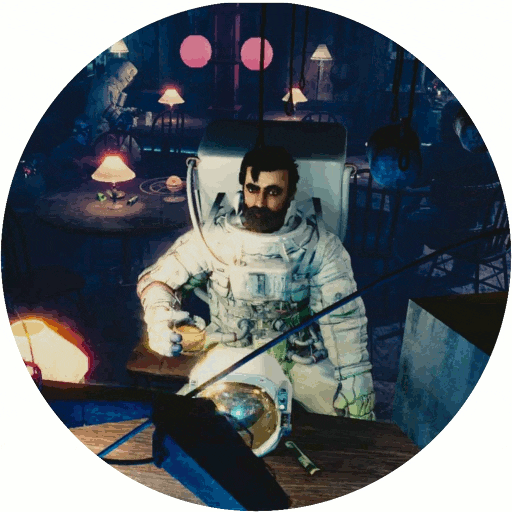 ---
SUPPORT THE MAKING OF A FILM.

---
The MoonMan Chronicles:
An episodical series
featuring Michael the MoonMan,
starting his journey at the Saloon on the Moon.

The Chronicles will feature
viewer decisions (change of outcome)

the wrong decision may lead to unwanted consequences...
so better choose right...
or just reload the video ;)

Music-Partners :


ÆTLAS
MOONMAN CHRONICLES PLAYLIST
👇
---
Meet the Characters !

---
S.A.S.H.A
THE DRONE
---
S.A.S.H.A


S.A.S.H.A was established as an information drone during WW3 for live-coverage.

S.A.S.H.A is able to stay fully funtional in space and its class 2 EM-Drive is able to make it an interplanetary low-weight smuggler.

It's stealth abilities served the moonbases well, during WW3. These days it's mostly used as an information drone or for smugglers residing on the moon.

---
Michael
The Astronaut
---
Michael
This 42 year old man is driven by one thing. To explore the universe and its mysteries. He's a smart scientist and an even bigger adventurer. The media loves him for his extraordinary display of space-footage on his social media.

In younger days he served as a pilot; also during the war. When it was over he returned to space and worked in a small team of scientist. This job became his life. Earth was nothing more than a distant, pale blue dot in the dark.

After a desastrous incident close to Saturn, though, his heart changed its beat and he has yet to find his energy back.

He abandoned his team in order to work in a reasearch facility on the moon. The unfulfilling job is only endured by extense consumption of whiskey and cigars.


---
FRANCIS
THE ROBOT BARTENDER

---
Francis

Francis is nothing short of an asshole...

Well it depends on which personality profile you set him to, when checking the menu in his ''Saloon on the Moon''.

A few of the listed personality options are:

Default (Francis-Originality)
Charles Dickens (Latest Update)
Mark Twain
Saloon-On-The-Moon-Owner-Personality
The Asshole (for Sadists)
Robot-Creator-Personality (Mandatory Installation)
An Excellent Selection of Pornstars (Only After Midnight)
...

When he's not trying to get you to drink another whiskey or beer, he can be quite an amusing company
---




Restless Pete
---
Restless Pete


There's not much information about this guy.

It is known though, that Interpol is connecting him to a large number of the last two decade's contract hits.

He doesn't leave without a bang also.

Witnesses report in fearful stutter, that there's a blue energyblasts that kills douzens more of those, who are too stupid to flee his murderous reach.

Let's face it. THIS guy is an asshole!

Now get me some whiskey please Francis!


---
Samantha
''The Queen''


---
---
Moonman chronicles news signup